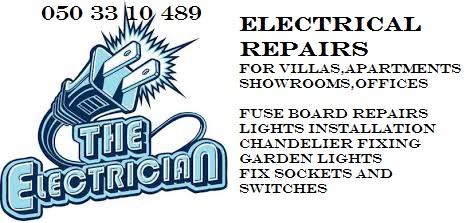 An emergency electrician is an electrician who can show up at your home or business to attend to electrical emergencies that could occur at your residence,Business or office.It is easy to find an electrician,but finding a qualified and experienced electrician in Dubai is not an easy task.
Al Rowdha technical services (You can contact them on 050-33 10 489)provides high quality electrical services in Dubai for Residences and Businesses.
Our experienced electricians can inspect and repair power failures,Short-circutes,Fuse board repairs,Changing of MCCB,ELCB etc..
We also do light fixing jobs,installation of chandeliers,Fixing ceiling lights,Garden lights,Light dimmers,fixing spot lights,Flood lights ect..
Our Dubai emergency electricians are available on call service at short notice.Our electrician service covers all parts of Dubai.Our prices are very reasonable.Call-out services starting from as low as 200 Dhs. per hour.
Call us/Whatsapp – 050 33 10489
Emergency electricians in Al Barsha Dubai,Electrician service in Al Quose Ind. Areas Dubai,Electricians in Dubai Lad,Electricians near me,Electricians in Dubai Marina, Electrician service Dubai,Light fixing service in Dubai,Ceiling lights fixing service in Dubai,Chandeleir fixing service Dubai