Terrazzo tiles – Terrazzo floor tiles and roof tiles
Leading Terrazzo floor tiles and roof tiles manufacturers and suppliers in UAE.
Tile sizes available
300x300x28 mm
250x250x20 mm
400x400x28 mm
Terrazzo steps and Risers
Terrazzo skirting tiles
Terrazzo Garden Benches
Order /More info for this product
Whatsapp /Call  – 050 3310 489
Email – sales@homebuild.store
Description
Terrazzo Tiles – Terrazzo floor tiles and roof tiles
You may also like…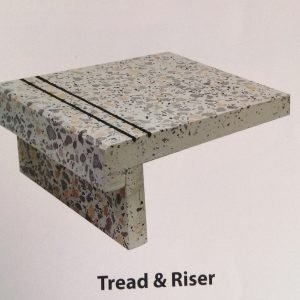 TERAZZO Mosaic Steps and Riser Stairway steps and risers For buildings and Villas Tread and riser and  Tread with riser Skirting for treads Skirting for Flooring and landing Inquire/Order this product
Whatsapp/Call - 050 3310 489
Real terrazzo is made from a mix of chips, such as marble and glass chips, that are held together with a composite. It's generally much thicker, around 20mm, to prevent it from cracking.
Terrazzo steps and Tiles can withstand the test of time.It's is the main reason for builders use Terrazzo tiles and steps on the high traffic areas of building and public places.
We supply terrazzo floor tiles,Roof tiles and Terrazzo steps with risers across UAE
Marble steps and Risers