Best Water Heater supply and installation service in Dubai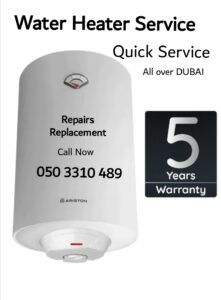 Water leaks are the most common type of water heater issue every house owner faces.Any water heater will start to leak eventually.Normally a good water heater will last 5 to 7 years before it starts leaking due to corroding.Normally a leaking water heater can not be repaired due to the safety reasons.In this situation,you need to replace your Hot water tank.
Another common water heater issue is your tank is full but not heating the water.This could be an issue with the heating element of the water heater.Heating elements can be replaced by a technician.
Its always better to install a good brand water heater with long warranty and safety features. ARISTON is the most common brand electric water heaters used in UAE.This Italian brand known for its durability and safety features.
Ariston water heaters are available in 50 Litters,80 Litters,100 Litters,150 Litters and 200 Litters.Both Vertical models and Horizontal models are available.These water heaters are coming with 5 year warranty from the manufacturer.
For repairs and installation services contact
Call/Whatsapp – 0503310489
sales@homebuild.store
Springs Dubai – Water heater installation in Green Dubai – Water Heater installation in Al Barsha Dubai
Arabian Ranches Dubai – Water Heater service in Sports City Dubai
Palm Jumeira Dubai – Water Heater installation in Jumeira Triangle,Dubai
Heater installation in Remraam Dubai- Water Heater installation service in Dubai Marina
Heater repair and installation service in Sustainable city,Dubai,Water Heater repair in Meadows Dubai
repair installation service in JVC Duabi
Water heater supply and installation in Al Barsha Dubai
Water heater supply and installation in JLT Dubai
Water heater service in Dubai Dubai