Outdoor tiles for Landscaping, Pool decking, Driveways, Patios
Introducing our premium 20 mm thickness porcelain stoneware outdoor tiles, the perfect blend of elegance, durability, and functionality for all your landscaping and Outdoor flooring needs. Crafted with precision and designed to withstand the elements, these tiles are an ideal choice for transforming your outdoor spaces into a stunning oasis.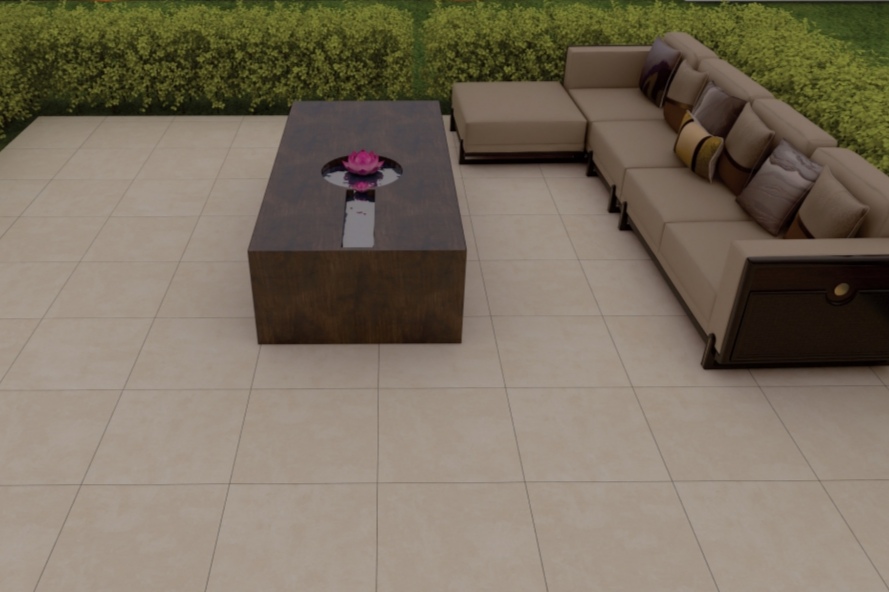 Key Features
Superior Durability: Our porcelain stoneware outdoor tiles are engineered to be tough and long-lasting. The 20 mm thickness ensures resistance to heavy foot traffic and vehicular loads, making them perfect for high-traffic areas like driveways and pathways.
Weather-Resistant: With the ability to brave the harshest weather conditions, these tiles maintain their color, texture, and structural integrity, ensuring they remain a timeless addition to your outdoor spaces.
Slip-Resistant: Safety is paramount, and our outdoor tiles have a slip-resistant surface, providing excellent traction even in wet or icy conditions. Enjoy peace of mind knowing your family, friends, and visitors are protected from potential slips and falls.
Low Maintenance: Say goodbye to time-consuming maintenance routines. Our porcelain stoneware tiles require minimal care, making them the perfect hassle-free solution for your landscaping and driveway surfaces.
Versatile Design: Available in a wide range of colors, textures, and patterns, these outdoor tiles effortlessly complement any landscape or architectural style. Achieve a contemporary, rustic, or classic look to suit your preferences and enhance your property's curb appeal.
Fade-Resistant: The premium pigments used in our tiles ensure they maintain their vibrant colors over time, avoiding the dullness and fading often associated with traditional outdoor paving materials.
Environmentally Friendly: Made from natural materials and manufactured using sustainable practices, our porcelain stoneware tiles are an eco-conscious choice for environmentally-aware consumers.
Transform your landscaping and driveway areas into inviting and aesthetically pleasing spaces with our 20 mm thickness porcelain stone ware outdoor tiles. Whether it's for a residential or commercial project, our tiles will elevate your outdoor living experience to a whole new level. Create lasting memories with family gatherings, entertain guests in style, and enjoy the beauty and functionality of our top-of-the-line outdoor tiles.
Upgrade your outdoor spaces with the unrivaled combination of beauty, strength, and practicality – order your 20 mm thickness porcelain stoneware outdoor tiles today!