Premium sanitary ware suppliers in Dubai
🚽 Elevate Your Bathroom with Areej Brand Sanitary Ware! 🚿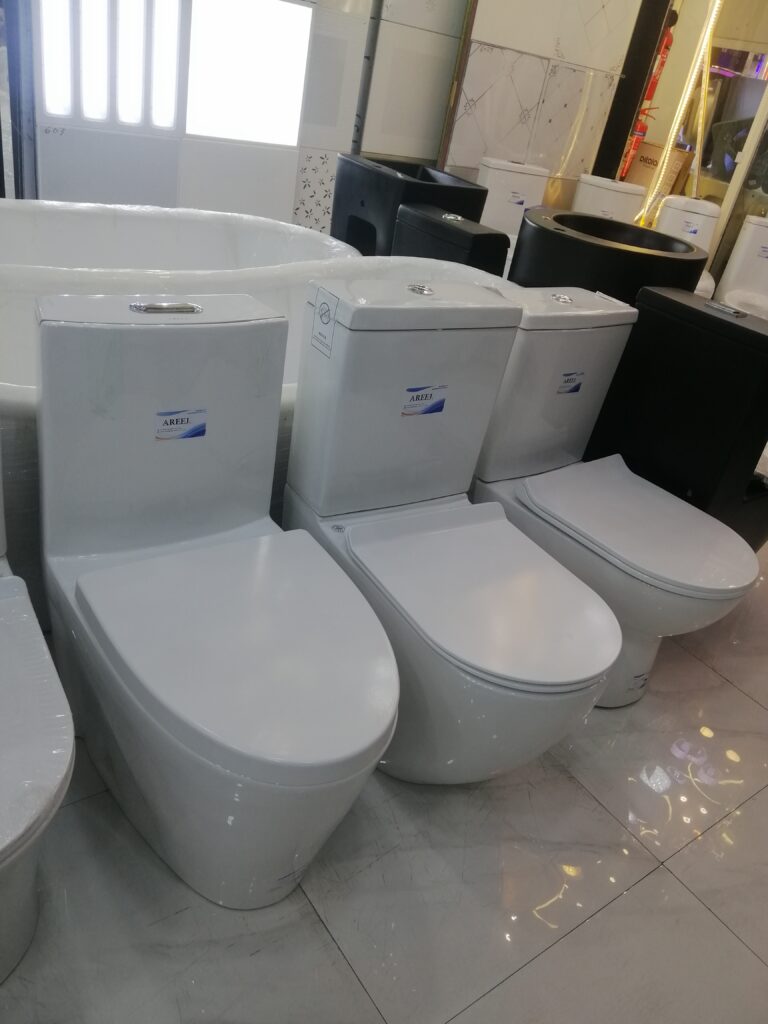 Introducing AREEJ Brand, your ultimate destination for premium and exquisite sanitary ware products that redefine luxury and sophistication in your bathroom. From elegant water closets to stylish washbasins and functional vanity cabinets, AREEJ Brand brings you a curated collection of bathroom essentials that combine aesthetics and functionality seamlessly.
🌟 Impeccable Craftsmanship: At Areej Brand, we take pride in the artistry and precision that goes into creating each and every product. Our team of skilled craftsmen and designers ensure that every detail is meticulously crafted to perfection. From the smooth curves of our washbasins to the flawless glaze of our water closets, every piece is a masterpiece in itself.
💧 AREEJ Water Closets for Comfort and Efficiency: Experience the epitome of comfort and innovation with AREEJ water closets. Designed with cutting-edge technology, our water closets offer efficient flushing systems, water-saving features, and easy-to-clean surfaces. With a variety of contemporary and classic designs to choose from, you can find the perfect water closet that complements your bathroom aesthetics.
🚰 AREEJ Washbasins that Redefine Elegance: Transform your bathroom into a sanctuary of beauty with our stunning washbasins. Crafted from premium materials, these washbasins exude elegance and sophistication. Whether you prefer sleek and minimalist designs or artistic and intricate patterns, Areej Brand has a wide selection to suit your individual style.
🗄️ AREEJ Vanity Cabinets for a Clutter-Free Space: Keep your bathroom organized and clutter-free with our stylish vanity cabinets. Available in various sizes and configurations, our vanity cabinets offer ample storage space to keep your essentials neatly tucked away. Choose from a range of finishes to complement your bathroom decor and create a harmonious ambiance.
🏆 Quality Assurance: At AREEJ Brand, quality is our top priority. We source the finest materials and subject every product to rigorous quality checks to ensure durability and longevity. Rest assured, our sanitary ware products are built to withstand the test of time, giving you peace of mind and a bathroom that retains its allure for years to come.
🛡️ Customer Satisfaction Guaranteed: We take great pride in our customer-centric approach. Our dedicated customer service team is always ready to assist you, from product selection to after-sales support. Your satisfaction is our utmost priority, and we strive to exceed your expectations at every step of your journey with Areej Brand.
🛁 Elevate Your Bathroom Experience with Areej Brand: Discover a world of elegance, sophistication, and functionality for your bathroom with Areej Brand's exquisite range of sanitary ware products. Embrace the beauty of fine craftsmanship and create a bathroom that reflects your unique taste and style.
#AreejBrand #SanitaryWare #BathroomEssentials #LuxuryLiving #BathroomDesign
---